2018: A Space Apocalypse
Join Apocalypse Scooter Club for our Sci-Fi themed 13th Scooter Rally! Bust out your solar-powered laser-beam guitar, as '2018: A Space Apocalypse' will be an out-of-this-world experience - and that is no fiction. Held every August long weekend in Calgary, Alberta, we plan to take over the streets (and maybe even the skies). ALL types of scooters welcomed, particularly those with rocket boosters ;) 'Open the garage door HAL!'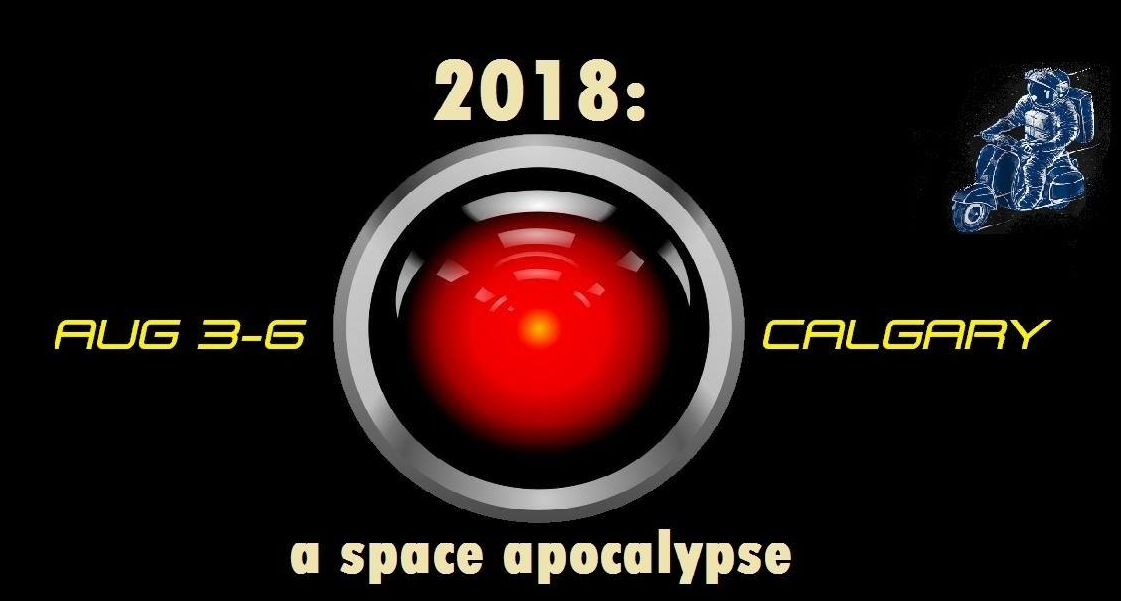 RALLY ITINERARY
Friday, August 3rd

6:00PM Meet and Greet @ Vendome Cafe (940 2 Ave NW)

Bring $20 cash to buy our space rally pack with patch, itinerary, and lots of other things to allow you to survive the rigors of space.

** Make sure you dress up for the theme. The will be prizes for the best costume **

Later… Monkey leads us on a ride which ends up for a bad sci-fi b-movie at an undisclosed firepit.

Saturday, August 4th

10:30AM Jane Bond BBQ (2014 36 St SE)

$15 bbq breakfast pay as you go and we have the whole place to ourselves. Please help us out by buying breakfast or beers or both as we've guaranteed their total daily take. You also get another chance to buy a rally pack here.

12:30PM-3:00PM Afternoon Wide Open Spaces Group Ride (75 km 50 friendly) led by our leader President Kennedy. The ride ends at the Star Track for the Space Races.

Rest at your own space dock.

7:00PM Galaxy Karaoke (1324 10 Ave SW), for a karaoke showdown. Sing spacey songs until we feel like riding.

Later… Night ride led by First Secretary Leonid Brezhnev to a secret firepit.

Sunday, August 5th

10:30AM Kildares Ale House (1202, 19369 Sheriff King Street SW) A Southern hemisphere launchpad for the voyage of exploration and your last chance to buy a rally pack.

12:30PM-4:00PM Two voyages of exploration to follow: One fast dash on the Millennium Falcon to Sheep River falls led by Treasurer Han Solo. The other by the slow USCSS Nostromo to Turner Valley to explore the abandoned colony (Gas Plant) tour led by Engineer Andrew (Burnsie) Burns. If time allows, say hi to Motorrad Performance guys, maybe grab a burrito, and then head back to re-charge your batteries.

6PM Zero Issue Brewing (4210 12 St NE)
Bring in your own space rations, as they just do beer and snacks. But this base is where there are rally awards, and awesome raffle prizes featuring the Sarah Conner Elite 80 Scoot, plus many more prizes acquired by the Ferengi of the ASC. Stay for some low speed gymkhana and a slow race on the empty Cul-de-sac next door.

Later… Night starship dash through the airport time-tunnel led by Professor Bryan and then ending up at another firepit!

Monday, August 6th

9:30AM Vendome Cafe (940 2 Ave NW)
We see off our out of towners and will be riding, ending up at our beloved version of the Mos Eisley Cantina. A dark sinister bar full of one-eyed creatures and thousand-eyed, creatures with scales, creatures with fur whose tentacles, claws and hands are wrapped around drinking utensils. Also known to we Earthlings as Sammy's!

Please contact

regarding billeting as we will do our best to accommodate out of town guests. All times and events are subject to change. Check here again for more details.