ApocaLOVEstock
Join us August 4 - August 7, 2017 for the Apocalypse Scooter Club's 12th annual rally.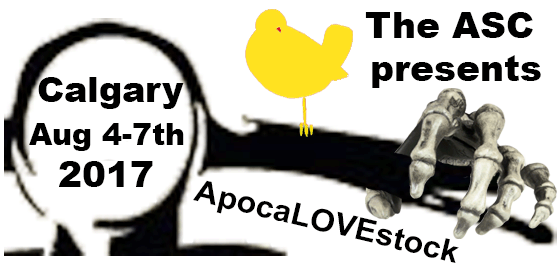 RALLY ITINERARY
Friday, August 4

6:00PM Meet and Greet @ Watchman's Pub (1109 17 Ave SW)

Bring $20 cash to buy our groovy rally pack with patch, ticket (to all the events and the closing feast), and lots of other cool stuff.

** Make sure you dress up for the theme. The will be prizes for the best costume **

Later… Dave leads us on a mellow ride. Even Later… Matt leads to more points unknown.

Saturday, August 5

10:30AM The Cat 'n Fiddle Pub (540 16 Ave NW) Join us for a hearty breakfast just like the Beatles used to eat. You get another chance to buy a rally pack here.

12:30PM-3:00PM Groovy city ride hosted by our very own "iron butt" Vespa rider Brad C

3:00PM Ride ends up at the Edworthy Park Love in (Google "Edworthy Park south parking lot") Follow the music and smell of tube steaks to site 5. Bring an instrument on your scoot, prepare to make some sweet music with our more proficient club members. Watch some cool movies, eat hot dogs, and chill out in the river.

Later… the still living President Kennedy leads a ride somewhere.

Sunday, August 6

10:30AM Bobby's Place, Olde World Tavern (Bay 11, 11440 Braeside Drive SW) A great jumping off point for an epic out of town Magical Mystery Tour and the last chance to buy a rally pack.

12:30PM-6:00PM Magical Mystery Tour to Turner Valley (ending up at Motorrad Performance). The faster ride will be led by our very own Russ and Tom will lead the fifty-friendly ride . There will be a taco truck and a gymkhana happening when we get there.

6:30PM Good Evening Vietnam at the Wildwood Community Association (411 Spruce Dr SW)
Here's where it all reaches a big crescendo. Show your ApocaLOVEstock ticket to fill yourself with Vietnamese subs, buy tickets to win some fantastic raffle prizes (including an amazing bodge scoot), win some rally prizes and feel the ApocaLOVE.

Later… Gary (the only one old enough to have actually been at Woodstock) leads a Festival Express ride into the night.

Monday, August 7

9:30AM Goodbye to out-of-towners at Caffe Beano (1613 9 St SW)
We see off our out of towners and will most definitely do more riding to some weird locations after the tearful hugs of seeing the Summer of ApocaLOVE end.

Please contact

regarding billeting as we will do our best to accommodate out of town guests. All times and events are subject to change. Check here again for more details.