Apocalypse X - We Have Ten Year
Join us July 31 - August 3, 2015 for the Apocalypse Scooter Club's 10th annual rally.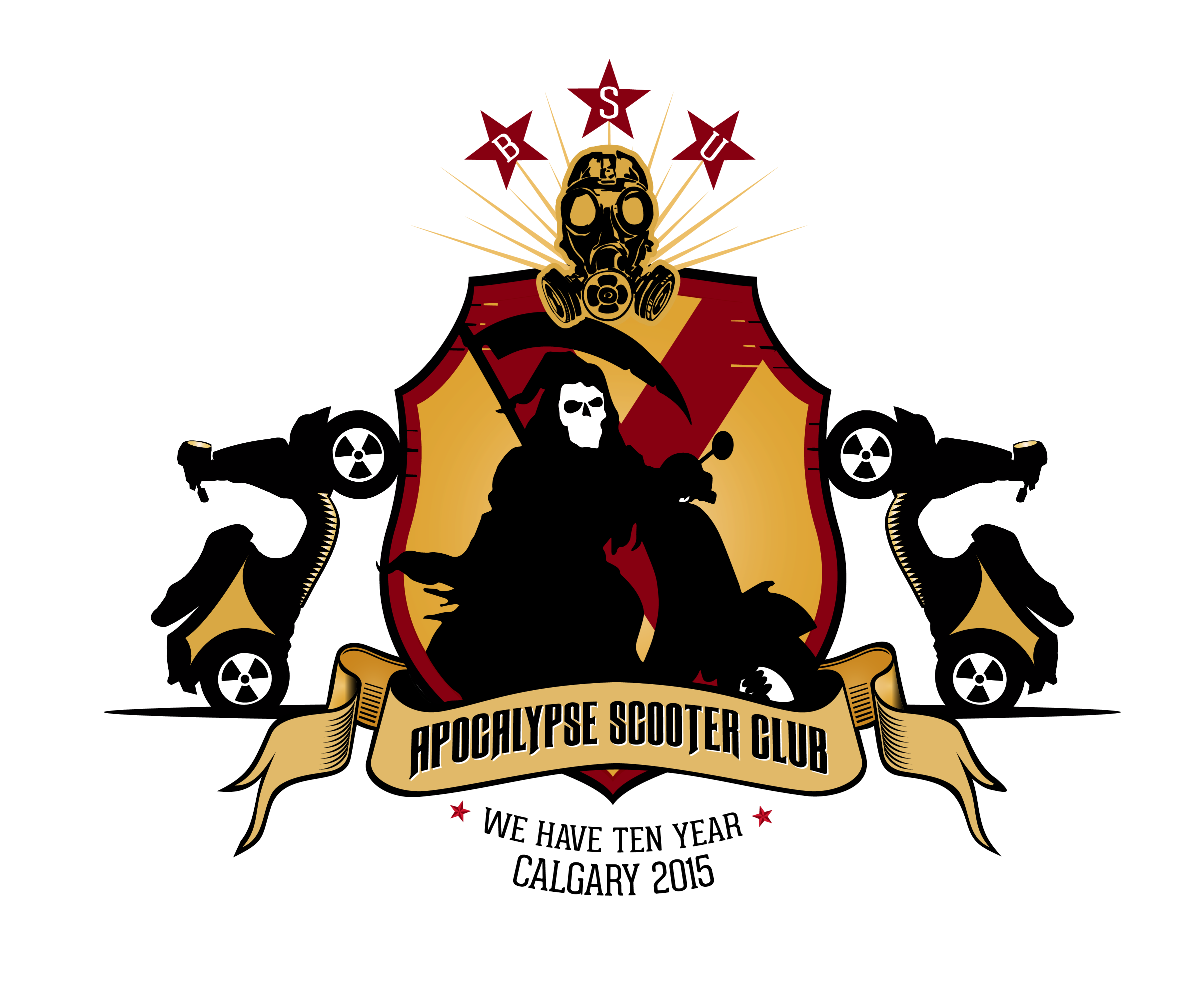 RALLY ITINERARY
Friday, July 31

7:00PM Meet & Greet at Swans of Inglewood 1336 9 Avenue SE (park on 9th Ave )

** We start selling our awesome one-of-a-kind rally packs tonight for $20, bring cash **.

** Make sure you bring a camera/cellphone. There is a best rally photo contest going on **

11PM+ Late ride to places unknown, fifty friendly

Saturday, August 1

10:30AM Breakfast Breakfast - Joyce on 4th Irish Pub 506 24 Ave SW (park on the south side of 24th Ave or in the parking garage next to it)
12:30PM Bob leads the Garage Sale Ride - hit up planned and unscheduled locations, buy cool stuff to win a prize! We will be ending up at the Time Capsule location from the Apocalypse 2012 Last Rally

Break – Free time to chill out

7:00PM Meet, eat, drink, rant, watch a movie and judge the garage sale finds for a prize. Creekside Bar & Grill 1065 Canyon Meadows Drive SW

11PM+ Late night SW quadrant ride

Sunday, August 2

10:30AM Breakfast - Ship & Anchor Pub 534 - 17 Ave SW (park on 17th Ave)

12:00PM Muffler Bacon Cooking Contest – Wrap bacon and other ingredients in tinfoil on your muffler to create the ultimate road food treat when you arrive in Turner Valley.

12:30PM Russ leads a Group Ride to Turner Valley to Motorrad Performance 202 Sunset Blvd NE Turner Valley. A food truck will be there (if you don't want to eat your muffler bacon!) and quite possibly a Gymkhana will break out. We will also judge the muffler cooking contest contestants when we arrive.
* Bring extra gas with you if possible - this is a long ride*
* The ride will split into fast-ish and slow-ish groups, so fifties are welcome! *

6:30PM Pig Roast, Raffle & Awards - Dave's in Westgate (location to be found in your rally pack)
*Bring cash for raffle tickets - awesome prizes to be had!*

10:00PM Karaoke - Ducky's Pub & Restaurant 2100 4 St SW (park in their parking lot

12:00AM Midnight Ride to places unknown

Monday, August 3

9:30AM Goodbye to out-of-towners and judging of the photo contest for a prize - Caffe Beano - 1613 - 9 Street SW

11:30AM Classic in city ride ending up at the Wild Rose Brewery Taproom 4580 Quesnay Wood Dr SW OR Sammy's Chophouse 3151 34 Avenue SE

Please contact

regarding billeting as we will do our best to accommodate out of town guests. All times and events are subject to change. Check here again for more details.