Apocalypse 2013 Global Gnoming
Join us August 2-5, 2013 for the Apocalypse Scooter Club's 8th annual rally.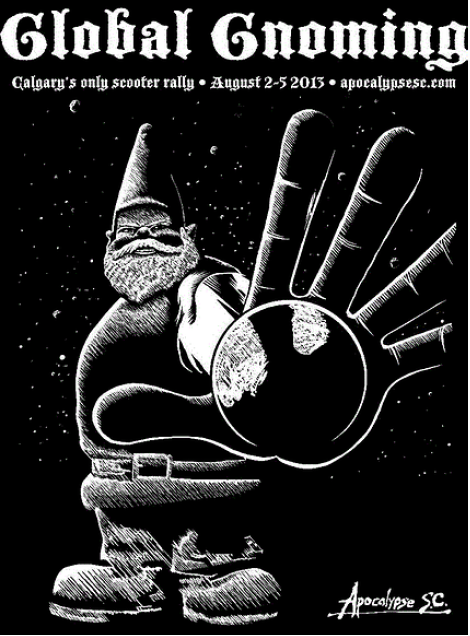 RALLY ITINERARY
Friday, August 2

7:30PM Meet & Greet at the The Ironwood

9PM Live Music by The Plaid Tongued Devils

12PM: Midnight Ride

Saturday, August 3

10:30AM Breakfast at The Ship & Anchor
12PM Group Ride ending at The Wildrose Brewery

FREE TIME

7PM Meet at Len's Den for Gnome Challenge*
* For the challenge you will need a digital camera or a cell phone with photo capabilities. We will split up into groups with the goal of taking the most creative gnome photo somewhere in Calgary. *There will be a prize for the winners.


9:30PM Meet up at Eastgate Restaurant Come to the bar at the side of the building.
* Bring your Gnome Challenge Photos

12AM Midnight Ride for those interested
Sunday, August 4

10:30AM Breakfast at Cinquecento Cucina

12PM Group Ride - East Calgary & out to Cross Iron Mills

5PM Roast Pig BBQ, Gnome Gymkhana, Raffle & Awards at The Old Motorcycle Shop
* We will be collecting donations for the flood relief efforts, so bring a couple of bucks.

8PM Ducky's Pub - for a good time

12AM Midnight Ride for those interested

Monday, August 5

9AM: Say goodby to out of town friends at Caffe Beano, 1613 9 Street SW
Please contact

regarding billeting as we will do our best to accommodate out of town guests. All times and events are subject to change. Check here again for more details.