Apocalypse 2012 Last Rally
Join us August 3-6, 2012 for the Apocalypse Scooter Club's 7th annual rally.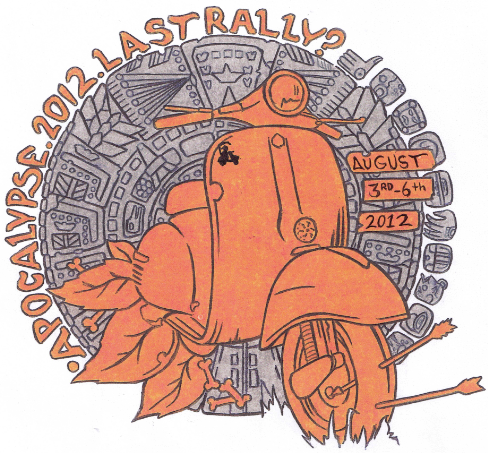 RALLY ITINERARY
Friday, August 3

7pm: Meet & Greet The Ironwood with music by Mocking Shadows, 1229 - 9th Avenue SE

Saturday, August 4

11am: Option A - Shooting Guns @ Shooters Edge
11am: Option B - Breakfast @ The Calgary Farmers Market
&nbsp (both options are at 510 77 Ave SE, near Blackfoot & Heritage)

1:15PM Ride #1 - Welcome to the Apocalypse (Meet in parking lot of Calgary Farmers Market 510 77 Ave SE)

3:30PM FREE TIME

6PM BBQ @ Alli and Noel's - food, bevies and a back alley gymkhana. 4159 Doverbrook Road SE

9:30PM Ride #2 - Apocalypse Sunset Ride and time capsule burial (Bring something small to add to the time capsule)

Midnight -Finish the evening with authentic Mayan cuisine at El Charrito Taqueria, 808 Edmonton Trail NE
Sunday, August 5

11AM Breakfast @ The Ship & Anchor, 534 17 Avenue SW

1PM Ride #3 - Mayan End of Days Scoot (leaving from Ship & Anchor) Riding to Sandy Beach (bring your swim wear - or go buff)

5PM Wrap Up BBQ @ Heritage Music & Posters - food, bevies, music, rally awards and a raffle! (Remember to bring cash), 1502 11 Avenue SW

10PM Apocalypse Style Guerrilla Scoot in Movie - the drive-in redone. Location TBA.

Monday, August 6

9AM: Say goodby to out of town friends at Caffe Beano, 1613 9 Street SW
Please contact

regarding billeting as we will do our best to accommodate out of town guests. All times and events are subject to change. Check here again for more details.