Calgary Rally Named Bacon 2010
Join us Jul 30-Aug 2, 2010 for the Apocalypse Scooter Club's 5th annual rally.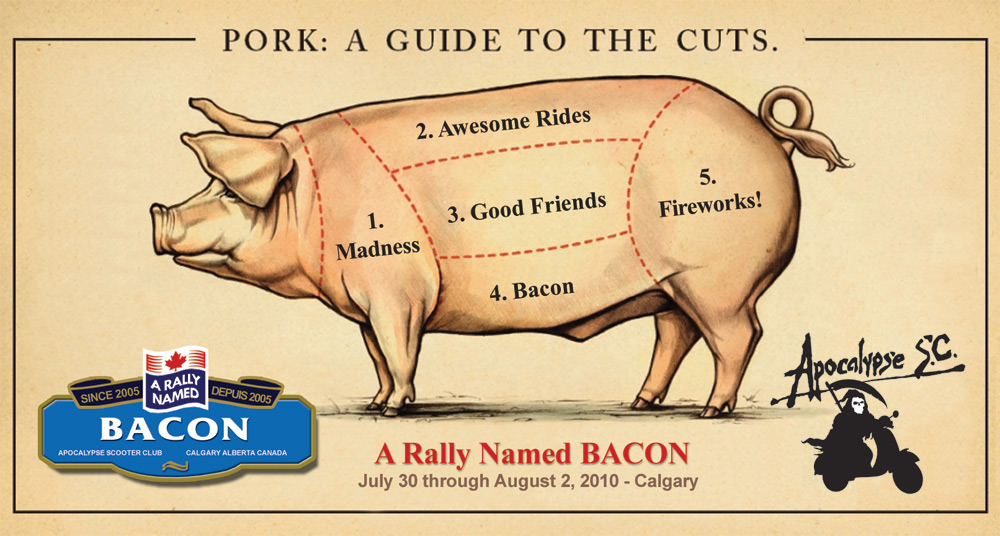 RALLY ITINERARY
Friday, July 30

7pm - Meet and greet at Palomino Smokehouse, the largest BBQ pit in Canada!
109 7 Ave SW

10pm - Rich Hope & His Evil Doers take the stage downstairs at the Palomino ($4 Pilsner for all scooterists at the downstairs bar)

Midnight ride to parts unknown

Saturday, July 31

10am - Return to the scene of the crime: breakfast at Palomino Smokehouse
109 7 Ave SW

12pm - Multiple in-city rides, and kickoff the Scooter Bacon Cook-off!

1:30pm - Scooter Bacon Judging and lunch at Ken Korean BBQ House
114 3 Ave SW

3pm - Beers at Wild Rose Brewery & Taproom
#2, 4580 Quesnay Wood Drive SW

5pm - Free time. Grab a shower.

8pm - Evening splendor at the Swig & Swine Pub. Porking in the rear.
619 36 Ave NE
Sunday, August 1

10am - Breakfast at Ship & Anchor
534 17 Ave SW

12pm - Assorted in-city riding

2pm - The Frolics at Local 510. Surf Punk Mayhem!
510 17 Avenue SW

4pm - Pig roast, BBQ and raffle prizes at Gary's house. Directions provided in rally packs.

6pm - free time. Grab a shower.

9pm - Karaoke at at Sole Korea. Bar is in the basement and entrance is through the alley. Yes!
628 8 Ave SW
Monday, August 2

9:00am – meet at Caffe Beano to bid farewell to the out of town guests.
1613 9 St SW
Please contact

regarding billeting as we will do our best to accommodate out of town guests. All times and events are subject to change. Check here again for more details.