Calgary Rally 2008 - hunk a burnin' LOVE!
Join us August 1st-4th, 2008 for the Apocalypse Scooter Club's 3nd annual rally.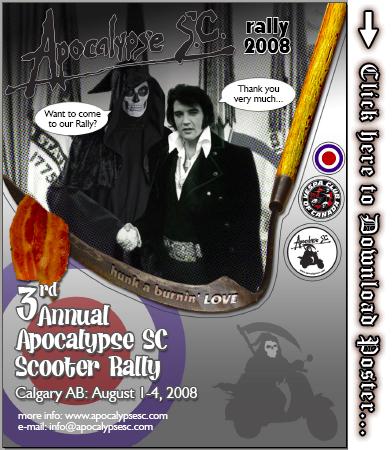 RALLY ITINERARY
Friday, August 1

7:00pm - Meet and greet at Swan's Restaurant and Public House in Inglewood. 1336 9 Avenue SE

Midnight ride to parts unknown

Saturday, August 2

9:30am – Meet at 14 Ave & 11 St SW. There are lots of breakfast joints nearby.

11:00am - Ride to various destinations within the city. If you are meeting us later in the day just holla and an ASC member will break it down for ya.

2:00pm - Stop at Weeds Cafe for coffee. 1903 20 Ave NW

4:30pm - Ride wraps up at Bookers Crab Shack for bevvies and snacks. 316 3 St SE.

6:30pm - Free time. Go take a shower.

9:00pm - Rockin' good times at Drum and Monkey / Bamboo Tiki Room. Check your rally pack for a free drink ticket. 1201 1 St SW

Sunday, August 3

10:30am – Breakfast at the Ship and Anchor. 534 17 Ave SW

12:00pm - Out of town ride to Black Diamond.

5:00pm - Return to Calgary for raffle prizes, etc. Meet at Caffe Beano 1613 9 St SW

6:00pm - Free time. Go take a shower and grab some grub.

9:00pm - Rockin' good times at Broken City. Get ready for some Elvis karaoke. 613 11 Ave SW

Monday, August 4

9:00am – meet at Caffe Beano to bid farewell to the out of town guests. 1613 9 St SW
Please contact

regarding billeting as we will do our best to accommodate out of town guests. All times and events are subject to change. Keep posted for more details.