Calgary Rally 2007 - 2pacalypse 4shur!
Join us August 3rd-6th, 2007 for the Apocalypse Scooter Club's 2nd annual rally.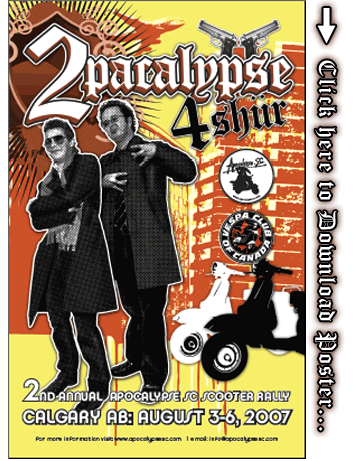 RALLY ITINERARY
Friday, August 3
7:30pm – Meet & greet at Swan's Restaurant & Pub in Inglewood (Contact point: 1336 9 Avenue SE)

Midnight –Jet off on a late night ride to points unknown.
Saturday, August 4
10:00am – Meet at Caffe Beano. They've got bangin' coffee and nibbles or come down earlier and there are lots of breakfast joints nearby.

(Contact point: 1613 9 Street SW)

11:00am – All-day city ride to various destinations around boom town. If you are meeting us later in the day just holla and an ASC member will break it down for ya.

2:30pm – The ride wraps up for BBQ at Sandy Beach Park . Make sure you retrieve the bandana from your rally pack as that is your ticket for food and more… (Contact point: 4500 14A Street SW *Access the park via 50 Avenue SW)

6:00pm – Free time for some chillin' and pit scrubbin'. OR head over early to the evening event crib for a free pint with your ticket from the rally pack. The adjoining pub, Drum & Monkey Public House, has a full menu too!

9:00pm – Come rock da house at Bamboo Tiki Room for MOJO: featuring DJ Rob Faust & Darcy Kraus. Bring your ticket from the rally pack for free entry before 10pm.

(Contact point: 1201 1 Street SW)
Sunday, August 5
9:30am – Breakfast at the Cat 'N Fiddle pub. 8$ per person. ASC members will be on hand to collect your paper so you can get some eats.

(Contact point: 540 16 Avenue NW)

11:30am – Leave from the pub for a long scenic ride to Cochrane. This ride is a 65km/hr minimum.

Return to Calgary when we feel like it and head to Eau Claire Market for some parlayin', raffle draws and awards. There are plenty of slammin' restaurants 'round this riverfront hood so take your pick!

(Contact Point: 111 2 Street SW)

9:00pm – Roll up to Broken City for Karaoke and turn it out! Be sure to wear your colors and reprezent! This is your chance to dress like the fly boyz and girlz that you truly are…

(Contact point: 613 11 Avenue SW)
Monday, August 6
9:00am – Morning meet at Caffe Beano for coffee and peace outs to our peeps.

(Contact point: 1613 9 Street SW)
Please contact info@apocalypsesc.com regarding billeting as we will do our best to accommodate out of town guests. All times and events are subject to change. Keep posted for more details.