Calgary Rally 2006 - Apocalypse Right Now!
Join us August 4th-7th, 2006 for the Apocalypse Scooter Club's inaugural rally.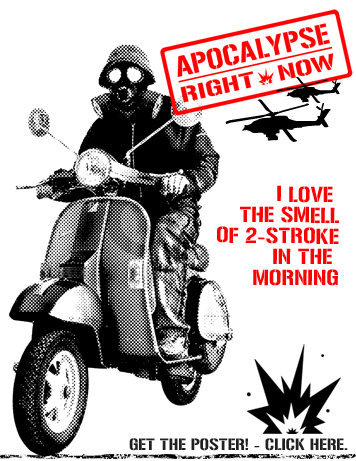 Rally Itinerary

Friday, August 4
7:30pm - Meet & Greet at Swan's Restaurant & Pub in Inglewood.
(Contact point: 1336 - 9 Avenue SE)
Midnight - Possible late night ride to points unknown.

Saturday, August 5
10:00am - Soccer Breakfast at the Ship & Anchor Pub.
(Contact point: 534 - 17 Avenue SW)
11:30am - All-day Saturday Ride to various planned destinations around Calgary leaving from the Ship & Anchor Pub. For those of you that want to join the ride at anytime during the day the schedule is as follows...
12:30pm* - leaving Bowness Park Lagoon(look for the scooters!)
1:45pm* - leaving North Glenmore Park (again take a ride through and you'll find the group)
4:00pm* - leaving Sikome Lake @ Fish Creek Park (see above for instructions on how to find us)
* for Bowness Park and North Glenmore Park we will be arriving 1/2 hour prior to departure, for Lake Sikome we are planning to arrive @ 3pm for a bit of relaxation by the lake before heading to the Dog & Duck - all times are estimated but we will try our best to stay on schedule.

4:30pm - The ride will wrap up for dinner at the Dog & Duck Public House and Restaurant before heading off for a little r & r and pit scrubbing in preparation for the evening's entertainment.
(Contact point: 5340 - 2 Street SW)
9:00pm - Head on over to the HIFI Club to catch The Riff Randals, The Neckers + Bogart. (Purchase a rally pack for early entry discounts!)
(Contact point: 219 - 10 Avenue SW)

Sunday, August 6
9:30am - Breakfast at Swans Restaurant & Pub in Inglewood. Sponsored by Vespa Calgary.
(Contact point: 1336 - 9 Avenue SE)
11:00am - Leave Swan's for a scenic long ride to BBQ in Millarville, AB. (This ride is roughly 60 kilometres; a gas stop will be provided before we leave.) Gymkhana, raffle drawing and more!
9:00pm- Return to Broken City for Karaoke & general debauchery.
(Contact point: 613 - 11 Avenue SW)

Monday, August 7
8:00am - Morning meet at Caffe Beano for a quick coffee and farewell to our out-of-town guests.
(Contact point: 1613 - 9th Street SW)

Please contact info@apocalypsesc.com regarding billeting as we will do our best to accomodate out of town guests. All times and events are subject to change. Keep posted for more details.